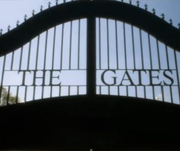 Situated in a private mountain location,
The Gates
is an exclusive private gated community founded by developer
Frank Buckley
in 1999. A portrait of perpetual suburban bliss, the streets are lined with perfectly manicured homes protected by the massive iconic iron gates, but a dark and scintillating secret is buried just beneath the surface of this picturesque neighborhood. Much like most other families that settle inside
The Gates
, the Monohans have detached themselves from the complicated and percieved dangerous big-city life they abandoned in
Chicago
, although he had his own secret to hide.
As the new police chief of The Gates,
Nick Monohan
is expecting a nice quiet change of pace in this small serene suburb. His wife,
Sarah
, and their children,
Charlie
and
Dana
, are set for new adventures of thier own. Their house appears something out of a fantasy, but in the midst of all the excitement, Sarah is still troubled by the revelation that her husband might not be quite the man she thought he was. Charlie and Dana will face some challenges of their own. Along with the normal trials and tribulations of their adolescence, they will face the task of fitting into their new upscale school, where their new friends run in tight-knit cliques with secrets of their own.
Something is very different about this new place, one might say almost haunting. Relationships will be complicated by friends with unnatural influence, insatiable housewives will struggle with unreasonable cravings, and teenagers will be forced to keep their "beastly" instincts in check. As the Monohans face an uncertain fate, Nick is about to be entrenched in a mystery where he will have to piece together the dark truths about their new home, and the unexplainable forces lurking in the shadows of The Gates.
Production
Edit
The Gates is produced by Fox Television Studios. The series is executive-produced by Gina Matthews and written and executive-produced by Grant Scharbo and Richard Hatem.